The Commish Online                                                                                          www.thecommishonline.com


Avoid Rookie Mistakes

March 21, 2006

It's been awhile, so pardon me while I dust off the Fantasy Focus column here at The Commish Online.  Phooo...  that's better.

The title of this column is Avoid Rookie Mistakes, but I am not referring to bad decisions made by first time fantasy owners.  Instead, it's the veteran owners who constantly try to find the next rookie gem, only to draft the unproven player too early based on potential alone.  Bottom line: draft numbers, not potential.  Here's a quick look at the Rookie of the Year winners since 1999: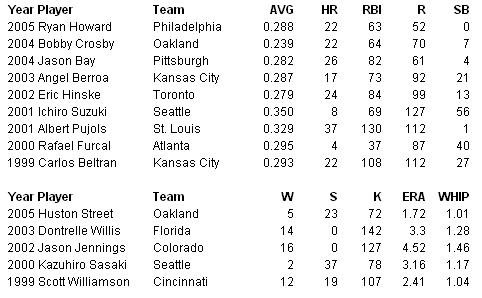 As you can see, the numbers aren't bad, but except for the unlikely phenoms in 2001 (Ichiro,a veteran as a rookie and Pujols, who I'm still convinced is 5 years older than he claims), the rest of the hitters have the stats of an average outfielder.  The pitchers are a mixed bag with nothing to get too excited about.  Street's ERA is impressive, but the innings were few.  Williamson's combination of wins and saves is a great asset to a fantasy team, but his situation could not have been predicted.

In any case, the most important thing to remember is that the above stats represent the BEST a rookie can deliver.  Sure, Williamson or Ichiro or Pujols would be a great boost to any team, but remember that over the long run, LESS than ONE of those players will be available every year, and trying to figure out which player that may be is not worth wasting an early to middle draft pick on.  If a .239 hitter with 64 RBIs won the 2004 A.L. ROY Award, just imagine the player you would have been stuck with if you drafted the fifth best A.L. rookie (which was Alexis Rios, according to ROY voting).

Don't get caught up in "sleeper" picks advertising so heavily by the fantasy magazines.  The pick only remains a sleeper if you make it late in your draft.  Choosing a potential ROY candidate with your 6th round pick and declaring that you just stole a sleeper will find you in bed together with a last place finish.