The Commish Online                                                                                          www.thecommishonline.com

The Mind of a Trade-aholic

May 20, 2004

It's May 20th and MRLB newbie Jon Erickson has already made SIX trades involving TWENTY ONE players.  Crazy, you ask?  Yes, I answer.  However, there may be a method to his madness.  Terribly unhappy with his inaugural draft (drafting several middle relievers in the process), Erickson has given in to a theory that heavy turnover with slight gains from each transaction will net him a better team.  Let's look at the results in a very general sense so far: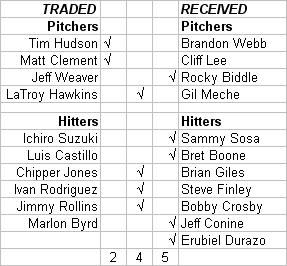 Matching similar players head-to-head (as best as possible), it does appear that Erickson's deals have made his ballclub better.  You may disagree with some of the advantages I gave.  For instance, you may prefer I Rod over Finley, but it's hard to argue with Finley's performance as of late, and Erickson reaped the benefit of that hot streak.  Rollins may be a safer pick than Crosby, but the overall effect to the team is negligible.  Even if you move a couple more checkmarks to the left, Team Erickson may not have improved its club as much as I am suggesting above, but it certainly hasn't hurt it, which is the main goal in making deals.

When trading, if you can fill a need without hurting yourself overall, it is a successful deal.  So far, despite the ridiculous volume of trades so far, Erickson has done just that.  Will Jon Erickson's wheelings and dealings pay off in the long run?  Tune in come September to find out.  I hope to be viewing from above.